IB Wave has a single objective: to offer the best online IB private classes and ensure you achieve the IB score you need for university.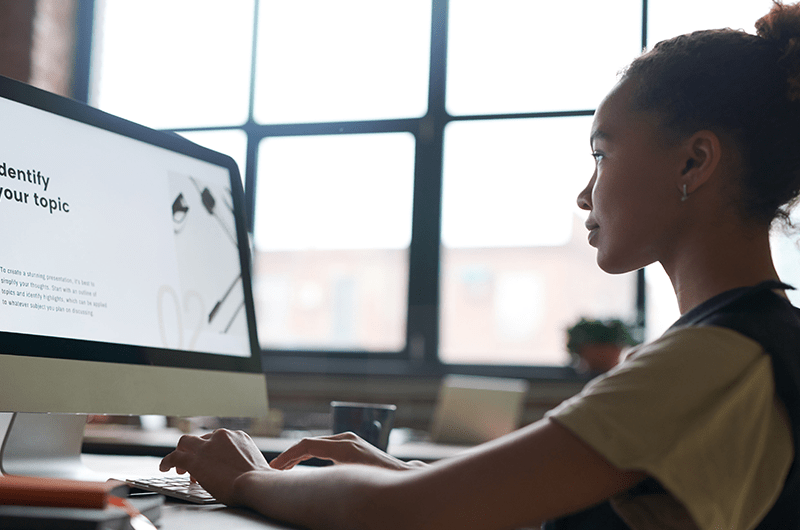 Our advisors are available to guide you through your IB packs and to help you have the best IB Wave experience. Through matching the most appropriate Tutor to you allows us to have the best possible experience.  Get in touch with us. Our expert advisors are trained to solve any concerns or questions you may have from the first point of contact as soon as possible.
To reach a port, we must sail
At IB Wave we have selected each tutor individually among the best group of candidates to guide you on the road to success. You will work along with experts who aced the IB in some of the best international schools, such as International College Spain, Schule Schloss Salem Germany or the Uruguayan American School. You will learn from their experience as they teach you how to master the exam technique as well as provide the necessary tricks and tips, using IB Wave material that will then help you to revise on your own.
Hello, I'm Isabella, but all my friends call me Bella. Biology was my prefered subject when I studied the IB. I am a dedicated, resourceful and goal-driven professional Biology teacher with a solid commitment to the academic growth and development of every student. With a 37 in my IB I was ready for a new step in my career, and I decided to be an actress. In addition to a long experience as a Biology teacher I studied Drama and Literature. My advice to students is: Plan ahead your personal and academic time! One secret to share with my students? try to enjoy the subject, what you learn can be used in your day by day, and let's make it enjoyable!
My name is Zuraida and IB English was my favorite subject. I studied at the National University of Singapore. I am a Professional IB Educator with diverse experience and a strong track record fostering student-centered curriculum and student creativity. I like to relax by playing the piano and cooking. I always suggest to my students: To write well you should think as a writer. I have proven abilities in problem solving, people management and motivation. I think a good teacher should encourage students to be the best version of themselves, striving to beat their "Personal Best".
Hello my name is Adrian. Biology was my favorite IB subject and when I finished College I studied Integrated Science at the University of British Columbia. With a 37 +7 +6 (I completed two additional courses) in my IB score, I realized the importance of studying the International Baccalaureate and the opportunities it has given me. I always tell my students: Enjoy the experience and share it with your classmates, because my secret as a teacher is to be approachable. Something more about me? Swimming, board games and family time are my hobbies.
Hi, I'm Olivia and I loved Physics at College, obtaining a 38/45 in my IB score. I studied Law at the Universidad de Buenos Aires. I am a self-directed, action-oriented professional with years of experience in Philosophy and English education. I love to spend time with my family and friends, yoga, reading, cinema and cooking. I'm an enthusiastic, committed educator with an innate ability to understand and motivate my pupils. Students should choose their subjects according to their interests. A good teacher should know what a student needs to progress and be prepared in order to get the best out of their students.
My name is Alexander and I enjoyed Mathematics Analysis and Approaches in my IB, obtaining a 44/45. I studied at The University of Edinburgh and tennis, climbing, piano, knitting and coding are my hobbies.
A secret I share with my students: Understand and enjoy the subjects in a way that is interesting for you. The secret of a good teacher is to try to be in the shoes of the students.
Hi, I'm Ismael and Physics SL was my best IB subject. I obtained a 43/45 in my IB, that's why I decided to study Physics, at King´s College London. I usually hike, play the flute/guitar, or write poetry. I love spending time (doing anything) with my friends, and I try to participate in as many volunteering experiences as possible. Occasionally, I also enjoy theatre and activities like bouldering. The importance of being organised in your higher studies (namely college or IB) is always highlighted by every teacher, professor, alumni, etc. As a disorganised student, I believe it's never emphasised enough. A good teacher means understanding whatever they are delivering and, most importantly, actively listening to their students!
IB Wave is an online tutoring programme led by teachers, subject specialists & members of the IB organisation. With their expertise, IB Wave promotes through interviews and written articles, tips, tricks and news from each of the areas and subjects of the Diploma Program. 
Our experts are ready to share their specialist knowledge in order to help students and families on a variety of topics. Their goal, to make IB students fulfill their potential and be the best version of themselves.
My favorite HS subjects were: History, Political Sciences and Physics. I studied at University of Applied Sciences Rhein, Main-German, BA.HON. in Int. Industrial Business and Engineering. Cooking, MMA (Mixed Martial Arts), my dog, and surfing are some of my hobbies.
Thanks to the IB, students can drive their own learning and are encouraged to think critically by applying to real-life case studies. IB students become more culturally aware through the development of a second or even third language.
My best advice for an IB student is stay on top of your learning and work from day one. The IB Diploma can become a rigorous and challenging curriculum when you procrastinate for too long.
Maths, Physics, Philosophy, Technical Drawing, and Chemistry marked my life as a student. I studied at the Higher Technical School of Architecture of Madrid (ETSAM).
In my spare time, I love ice and roller skating, cycling, playing chess, painting, reading, and watching films.
I think the IB is the best educational system to enhance the skills of any student, inviting them to develop and apply them fully, and to always question "why" and "what for" of their learning and of the decisions taken in any learning activity.
One piece of advice for my students? To always have a critical and free-thinking attitude towards what they are learning and, above all, to learn from their mistakes with courage and resilience.
My name is Andy. Drafting, Physics, Math and English were my favorite IB subjects when I was young. I have a Bachelor degree in Civil Engineering at Gonzaga University. I enjoy mountain biking, playing pádel, and learning to play the guitar and bass. I also love traveling to new places and experiencing new cultures. I think the IB offers students a challenging curriculum that prepares them extremely well for university studies. It exposes students to high level content across all types of classes. My best advice for an IB student according to my experience is to choose the classes you are most passionate about, manage your time well, and use all the resources you have (especially your teachers).
IB Wave is a Think Ahead Education brand, a leading international education group in Spain
+7 years teaching IB online
+1000 IB Diploma graduates
Improve your results with help from the best
IB Wave is possible thanks to the three disruptive 'waves' that we have experienced in recent years, and that are at the heart of this project. Firstly, the internationalisation of IB as an educational system and its growth in recent years. Secondly, the development of technological tools and communication platforms in education. Lastly, the growing existence of IB alumni tutors, able to provide our students with all the keys to succeed in IB.
At Think Ahead Education we have been working with IB for years, helping thousands of students achieve their goals. Our position as leaders of the international educational market in Spain has allowed us to connect, teach, and work with the best talents in the educational field, in Spain and Latin America. Our vision of providing unique and high-quality educational environments is crystal clear in all aspects of IB Wave.